Southend Gun Club – English Skeet Championship 2017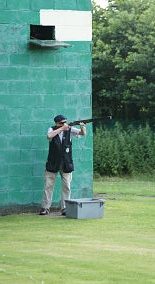 At Southend and District Gun Club there are many enthusiasts of English Skeet and this is why the Club English Skeet Championship is always a hotly contested event this year it was run on the 9th of April. As always the members who like to shoot other disciplines join in to make it interesting. Geoff Whistler was the 2016 Club Champion and was hoping to retain his title.
The day was kicked off by Dave Nelligan and the day was set to be a more serious affair than normal with the usual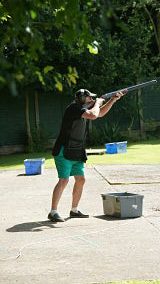 banter kept to a minimum game faces were on. Half way through the competition and Tony Mihill was out in the lead with a 24 having dropped the high bird on stand 2 with Geoff Whistler, Colin Greenstead and Mr Pimm snapping at his heels with a 23's. After being refuelled by Deidre's sausage and bacon sandwiches the contestants were starting to put in better scores. Tony Mihill managed to keep his nerve and posted another 24 and with Geoff Whistler and Colin Greenstead both posting another 23 it mean't that Tony was crowned SGC English Skeet Champion 2017.
Top scores for the day were,
Tony Mihill – 48 – Champion
Geoff Whistler – 23
Colin Greenstead – 23
Nigel Barnes – 45
Bob Paultard – 45
I think its worth a mention that Colin Greenstead who is always fun and full of laughter has been shooting consistently and been runner up in 2 competitions in 2017 so keep going Colin you'll get there.
Big thanks must go out to the organisers of the day Barry Dobbs, Keith Murray and Tony Matthews as well as the volunteer referees a great day was had by all.
If you are interested in having a go at Skeet why not give Barry Dobbs our Club Secretary a call and arrange a visit all safe guns are welcome or you may wish to take a look at the general rules which can be found on our Skeet Rules blog