Southend Gun Club ABT Championship
Southend and District Gun Club has for many years shot Skeet (English & Olympic) and Automatic Ball Trap and every year held its own championships for each shooting style and 2017 was no different. On the 9th of April it was a bright and sunny day and the annual Automatic Ball Trap (ABT) Championship had been ably set up by Tony Matthews, Keith Murray with Barry Dobbs our club secretary ready and waiting to book in the participants.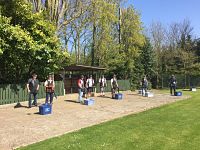 As this was a club championship even people who don't normally shoot ABT decided "what the hell let's have a go" and so a reasonable turnout were squaded for the 50 bird shoot shot in 2 rounds of 25 birds. Long-time gun club member Ken Peirse was 1st to shoot and to encounter the li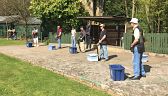 ght breeze which moved the targets around a lot. The squads came and went with the first straight 25 being posted by Trevor Haywood.
The last cards were in and 1st place was tied between Trevor Haywood and Phil Butcher and Colin Greenstead all with 47 hits each. The shoot off was won by the unwobbled nerves of Trevor Haywood who was declared ABT Club Champion 2017. The top 5 scores were,
Trevor Haywood – 47 – Champion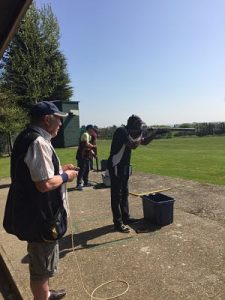 Phil Butcher – 47
Fred Colin Greenstead – 47
Fred Fulbrook – 46
John Henshaw – 45
After the shoot off the members gathered in the club house for one of Deidre's lovely breakfasts and to analyse the birds that got away.
A Great day was had by all and many congratulations go to Trevor Haywood our ABT Champion 2017.